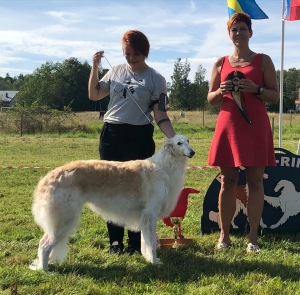 We have some news from the show rings.

Borzoi club specialty. Uppsala, SE. Judge: Alena Portsova.
Iorek's Balenciaga entered her third show as a veteran and won her third SBIS Veteran and also Best Bitch 3. We are so proud of our old lady!

SKC All breed show. Överkalix, SE.
Judge: Rafael Escar Tabuena
Iorek's Nala won her first CAC and was also Best Bitch 3. Congratulations to Amanda and Linda Wennström, Gordienko Borzoi!

Sighthound specialty. Kauhava, FI.
Iorek's Come Undone won her third CAC and also Best Opposite! Congratulations to Tanja Wetterstrand!